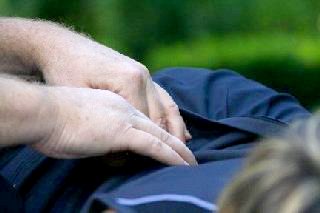 You get:
If you get what you need before five days, you may deem service completed; the full standard fee applies. You may allocate unused session-hours to family members or friends; however, any recorded somatic exercise programs desired by others must be paid for separately.
PRE-REQUISITE
Read the book, Somatics | Re-Awakening the Mind's Control of Movement, Flexibility, and Health, by Thomas Hanna, available at Amazon.com and at many libraries.
SERVICE FEE SCHEDULE:
(my location): $3,000.00 | five days
money-back satisfaction guarantee

My guarantee pre-supposes that you follow my coaching instructions for use of somatic exercises during the service period, including the four weeks, thereafter. The exercises are essential for "capturing" the changes set in motion during our sessions, the way, in university studies, one must review studied materials to retain them beyond the "cramming" period preceding examinations.
(your location): $5,000.00 | five days
money-back satisfaction guarantee less travel expenses
by-the-day option
(my location): $600.00/day, pre-scheduled and pre-paid
(your location): $600.00/day plus $2,000.00 travel fee, pre-scheduled and pre-paid
(my location, individual sessions) $195.00 economic hard-times rate: $165.00
ongoing coaching and/or recorded training materials extra

money-back satisfaction guarantee
Due to the limited access between us when people choose the by-the day or by-the-session options, the guarantee applies when we do all of the sessions needed to address your patterns of contraction identified at the time of functional assessment and when you diligently do the somatic exercises given.

Full results from a job partially done are not guaranteed.

At the time of assessment, we will go over the assessment, together, to determine what needs to be done.

APPLICATION:

All candidates for this special service complete an application form.

and pay a $100.00 deposit (applied to the SERVICE FEE or refunded if I decline to take you as a client).

Incomplete applications or applications submitted without the application fee will not be considered.

Please submit completed application and deposit (personal check acceptable) payable to:

Lawrence Gold | Somatics

For service at your location, you must arrange lodging and a workspace (including a treatment table), since I probably don't know the geography of your locality.

People who have gone the gamut of standard and alternative therapies and still been trapped in their painful condition have usually found clinical somatic education is their way out.