This page provides links to answers to specific questions about tight psoas muscles and their effects, found in the article, "The Psoas Muscles, Psoas Muscle Stretches, Abdominal Exercises and Back Pain".
Subscribe to Full-Spectrum Somatics | blog

The arrow symbol

, when clicked, opens a new window with the answer(s). Alternate between the two windows to view answers to questions (windows: [ALT]+[TAB]). Bookmark this page (windows: [CTL]+[D]) for future reference and for access to the program.

At right, you see selections from the program, Free Your Psoas, which provide a brief glimpse into the program.
A SATISFACTION-GUARANTEED PROGRAM
CLICK to order.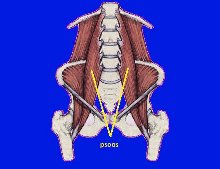 CLICK HERE
INTRODUCTION TO INSTRUCTIONAL SECTION

PREVIEW OF INSTRUCTIONAL STYLE